A holiday in Mallorca
Ive just returned from a weeks holiday in Mallorca, what a great little island it is. We landed in torrential rain, gale force winds, thunder and lightning! Woo hoo round of applause for the pilot of Air Berlin! Now that's an airline that deserves a plug, cheap, hassle free, 20kg of **free **hold luggage, free drinks and snacks on board and when booking you can even choose what seat you want to sit in, puts other low cost airlines to shame.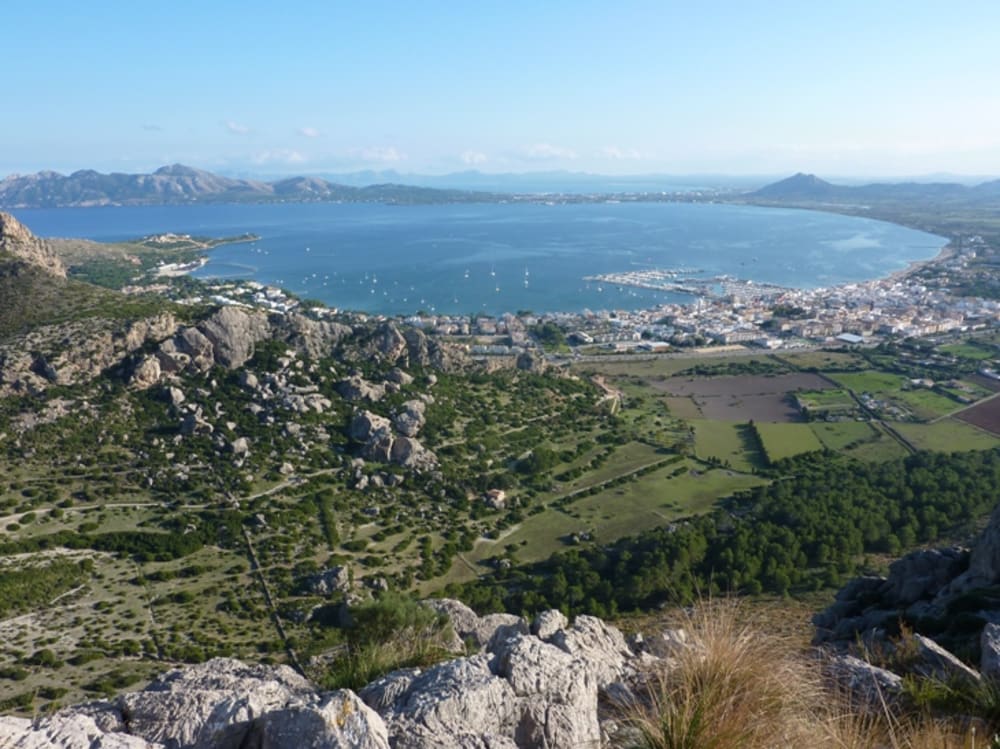 The view down to Puerto Pollensa from the Cavell Bernat Ridge
We picked up our hire car, a little fiat panda, who needs anything more? and set off to our apartment in Puerto Pollensa which was to be our base. Puerto Pollensa is a really pretty place to stay and full of every type of food you can imagine. For us this was great as we can not get a chinese meal, curry, fish and chips, sunday roast etc living where we do. Our apartment was great and even had heating which we used on a number of occasions. We settled in to our apartment, had a walk around town and the beach front, had some Mexican food, a few drinks then headed off to bed.
Day 1:- S'Albufera Natural Park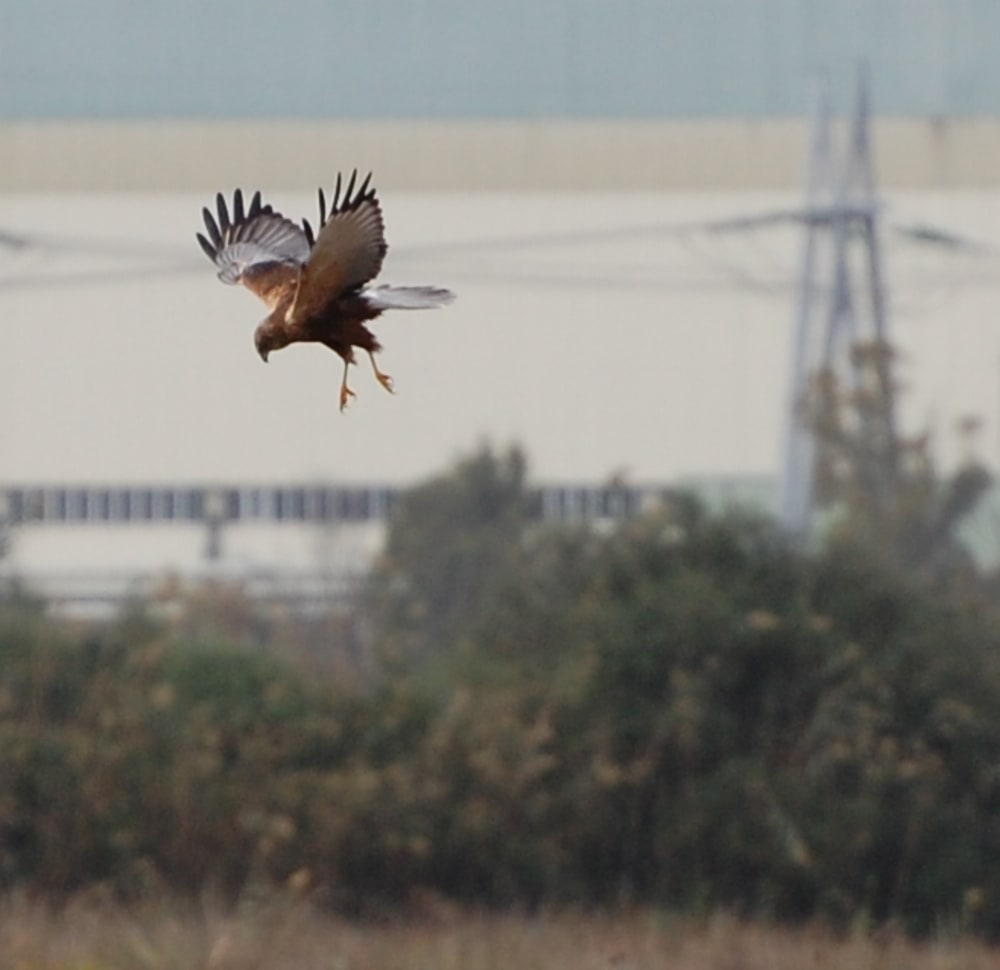 Male Marsh Harrier at Albufera
As it was due to rain on and off all day we decided a trip to the wetlands in the Albufera Natural Park would be a good idea rather than getting soaked in the mountains. Turns out we had left the bird id book back in Lanjaron so had no idea what we were seeing unless someone was able to tell us. What a set up this is, a huge area with hides dotted about so you can watch the comings and goings of the bird life. We saw all sorts of birds and most of them I have no idea what they are but shall be getting them identified soon. Some of the birds I do know we saw are Marsh Harriers, Osprey, Herons, Hoopoe, Egrets, Lapwing, Snipe, Black-Winged stilts, Sandpipers, Zitting Cisticola, Stonechats. We thought we had seen a Purple Swamp Hen, when we got home, looked in the book, turns out it was a Moorhen! That evening the heavens opened again, tree branches were falling down, signs falling over, even chairs taking off up the road by themselves, by the time we walked to an internet cafe we looked like drowned rats. We had a curry at a restaurant called the Mirch Masalla, great curry, very tasty even if a little expensive.
Day 2:-Puig Tomir (1103m)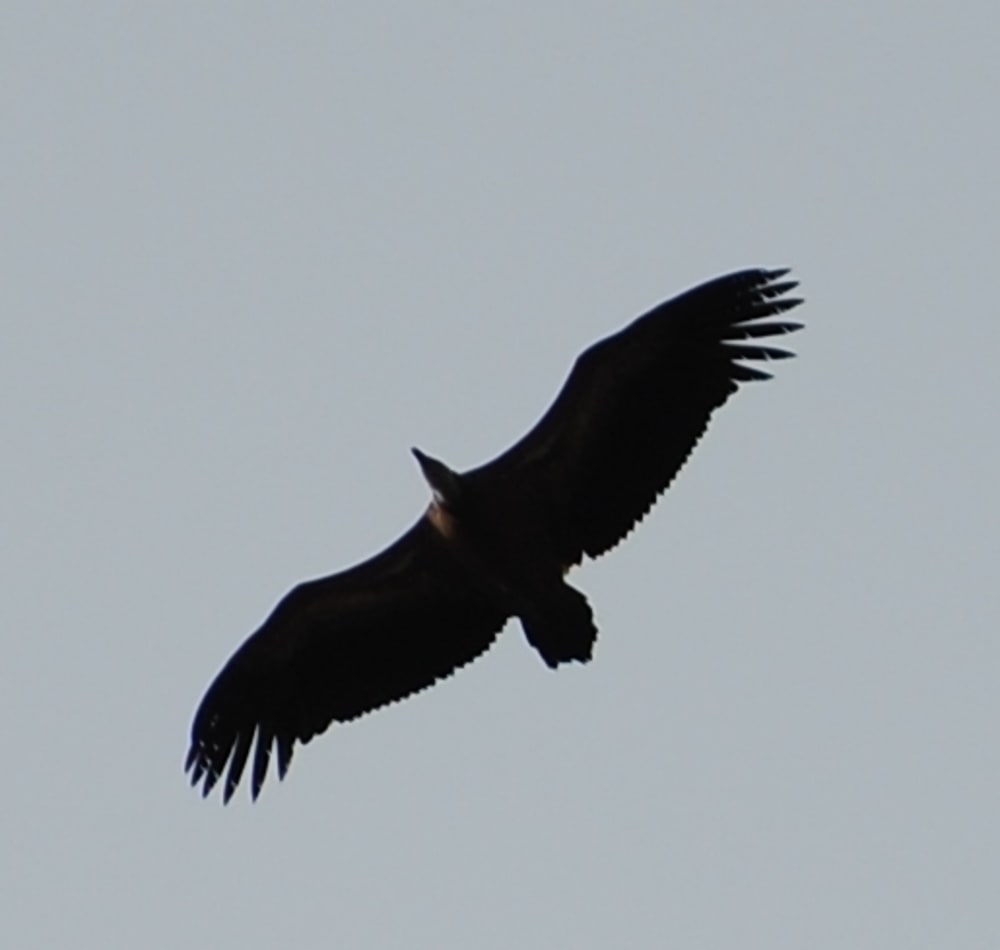 Black Vulture flying over Puig Tomir
Our first mountain day, so obviously the weather had blown itself out, well the rain had gone, it was cloudy on and off but was still quite windy. Great little mountain this, an hour and a quarter up the short steep side to the summit and back down the longer not so steep way. We had some fantastic views of Black Vultures, they were with us for most of the day. These birds are massive and it was a complete honour to have them flying over head whilst we were on our 5hour walk. There was a lot of other wildlife around as you pass through various habitats. That evening we ate at the Codfather fish and chips takeaway and restaurant, yes even I ate a piece of fish. Definitely recommend this place if you stay in Puerto Pollensa.
Day 3:- Massanella (1367m) The highest mountain on Mallorca that you are allowed to climb.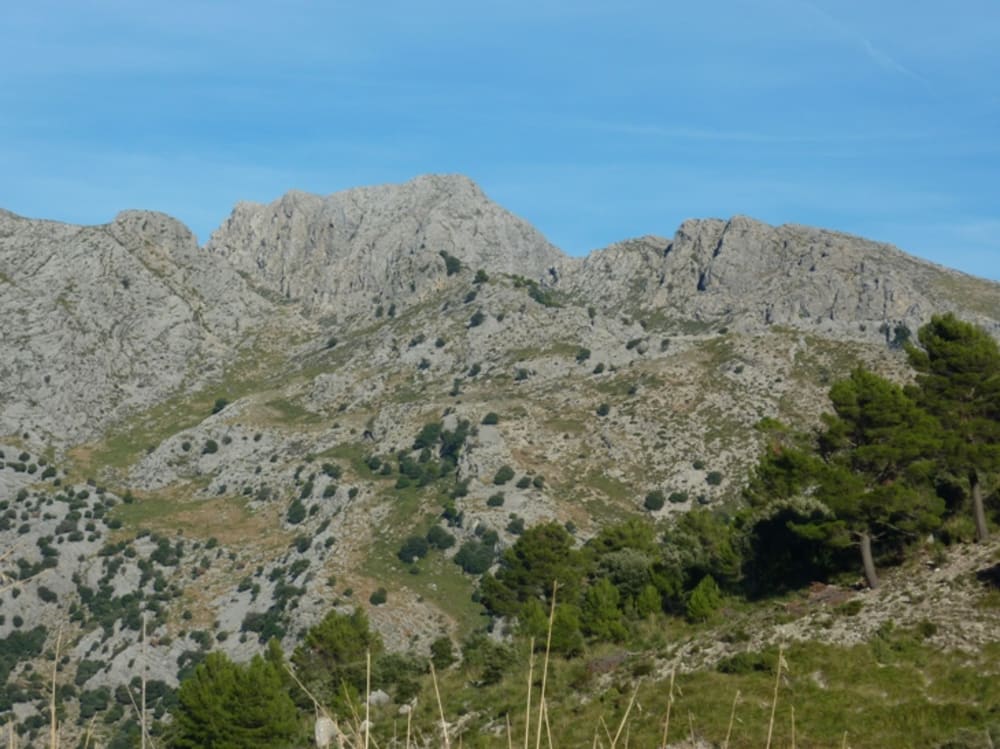 Masanella 1367m
Our 2nd mountain day was a clear and rather warm. We set off from the quieter side of the mountain near Cuber, obviously it was not going to be the easiest way up, hence its the quiet way! A long walk in following an acequia and then into a forrest which pops you out to great views of Black Vultures and maybe Griffon Vultures. We had to climb up a short section and then scrambled our way up to the summit. It was rather windy on the summit so didn't stay too long before heading down to the warmer lower levels and the great views of the vultures again. This walk took us about 6 hours. We stayed in and ate our own food that evening.
Day 4:- Day off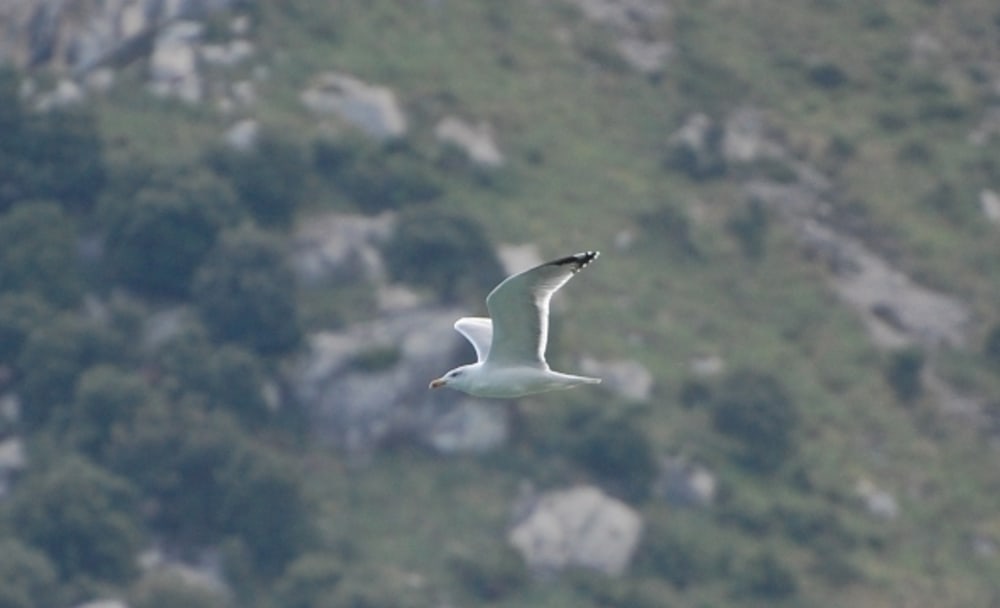 Seagull
We spent the day driving to Formentor and then onto Cuber. Something to be aware of in Mallorca, Sundays are very busy and parking is very difficult. We sat next to the Gorg Blau lake and had a picnic. We had again great views of vultures, seagulls of various shapes and sizes, cormorants and a red kite. That evening we went to a pub called the Nags Head, watched the X-Factor results and had a great Sunday roast. We had a good laugh at the people in the pub who went in specifically to watch the X-Factor.
Day 5:- Albufera again Today was hot and cloudy, we wanted a day off so we went to the wetlands area of Albufera again thinking we would sit in the hides all day, wrong, we took a wrong turn and ended up walking around the whole of the park which took us 4 hours! Eventually we got back to the hides, hot thirsty and tired, but all the usual suspects were there. That night we had a chinease 4 courses for €7.99. Not the best but enjoyable.
Day 6:- Cavell Bernat Ridge (350m)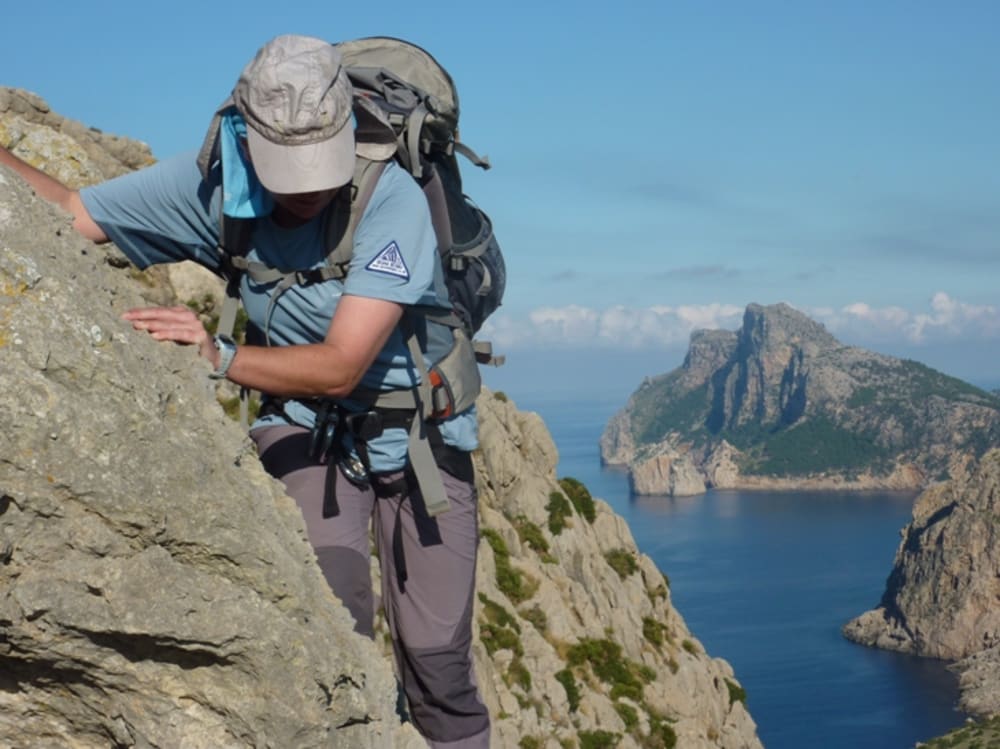 Me on the Cavell Bernat Ridge
Oh my what an experience this was on our hottest day of our holiday. After a short walk in of about an hour (we didn't have to drive as our apartment was opposite this ridge) up to the col you are faced with a wall of rock which you have to climb up, Richard put a rope on me for confidence as this ridge is for experienced scramblers and rock climbers (I'm neither) and you need a good head for heights as one side of the ridge plummets straight down into the sea. The vegetation is vicious and the rock is very sharp. Its a very slow and hard day. You face various difficulties on your way over the ridge and have to down climb, sometimes you have to go back up what you have just down climbed if you forget your rucksack!!!
We saw 2 Eleonora's Falcons which we believe are quite rare these days so felt rather privileged. We were very tired and hot when we finished so treated ourselves to an expensive meal in a great restaurant just outside Puerto Pollensa called Ca'n Pacienci, nearly opposite the supermarket Euroski. Absolutely recommend this place the food was amazing, the restaurant has been there for over 30 years and is still run by the same family. So that was our holiday.
Comments
D.K. Wall & The Thundering Herd: Love seeing a part of the world I have not been to. Looks like a great vacation.